Oncofertility Science Academy at UC San Diego 2018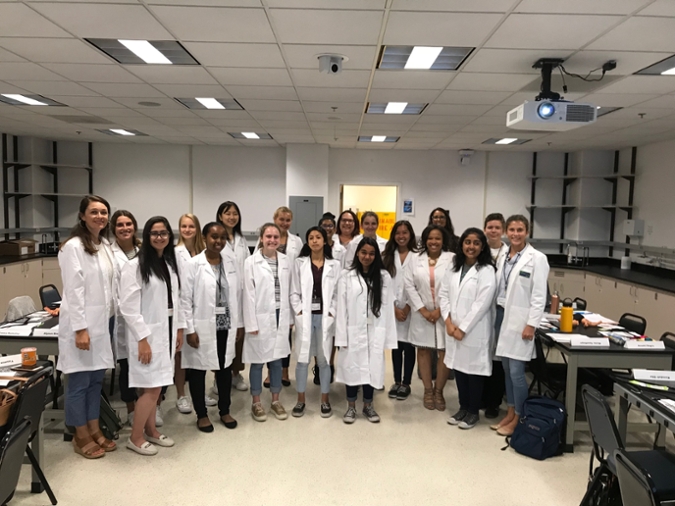 Class of 2018 
I. Session #1: July 7, 2018 Reproductive Biology and Metabolism 
Faculty: R. Jeffrey Chang, M.D., Michael Hsieh, M.D., Shunichi Shimasaki, Ph.D., Heidi Cook-Andersen, M.D., Ph.D., Christian Secchi, Ph.D.
II. Session #2: July 14, 2018 Pathophysiology of Polycystic Ovary Syndrome
Morning Session:
Faculty: R. Jeffrey Chang, M.D., Nai-Wen Chi, M.D.
Afernoon Session:
Field Trip to Children's Hospital of Orange County (CHOC) July 19, 2018 
Dr. Leonard Sender, Pediatric Oncology and Oncofertility
III. Session #3: July 21, 2018 Invitro Fertilization
Site: Scripps Institution of Oceanography 
Faculty: Amro Hamdoun, Ph.D., Lauren Shipp, Ph.D., Cat Schrankel, Ph.D. 
Afernoon Session:
Site: Reproductive Partners- La Jolla Regional Fertility Center, Scripps Xi-Med Building
Faculty: H. Irene Su, M.D., MSCE, Analisa Yeo, Laboratory Suvervisor and Nursing Staff
Field Trip to San Diego Zoo Safari Park July 26, 2018
Dr. Barbara Durrant and Staff
IV. Session #4, July 28, 2018 Ethics in Reproduction and Oncofertility 
Faculty: Hiral Dave, M.D.
V. Session #5, August 4, 2018 Cancer Biology
Site: Moores Cancer Center
Faculty: David Schlaepfer, Ph.D., Lisa Madlensky, Ph.D., Allison Barrie, MD, Rebecca Rakow-Penner MD, PhD
Closing Program, August 11, 2018