Oncofertility Science Academy at UC San Diego 2019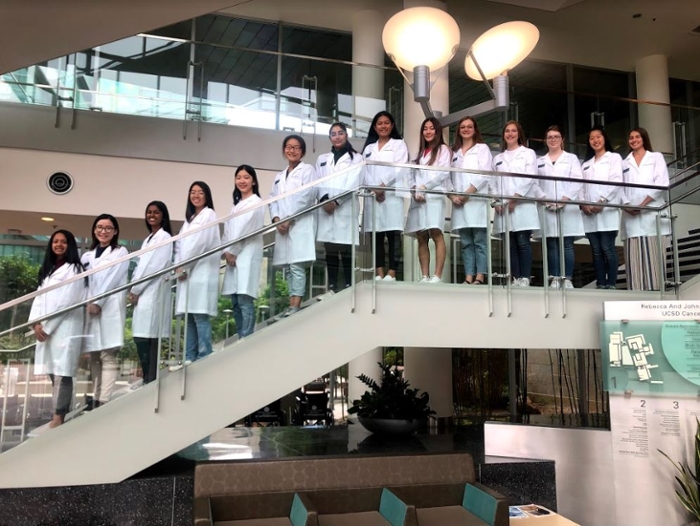 Class of 2019
I. Session #1: July 13, 2019 Reproductive Biology
Faculty: Irene Su, M.D., MSEC, Michael Hsieh, M.D., Shunichi Shimasaki, Ph.D., Heidi Cook-Andersen, M.D., Ph.D., REI fellows( maybe)
II. Session #2: July 20, 2019  Polycystic Ovary Syndrome and Related Metabolic Disorders
Morning Session:
Faculty: R. Jeffrey Chang, M.D., Nai-Wen Chi, M.D.
Afernoon Session:
Field Trip to Children's Hospital of Orange County (CHOC) July 25, 2019
Dr. Leonard Sender, Pediatric Oncology and Oncofertility
III. Session #3: July 27, 2019 Invitro Fertilization
Site: Scripps Institution of Oceanography 
Faculty: Amro Hamdoun, Ph.D.
Afernoon Session:
Site: Reproductive Partners- La Jolla Regional Fertility Center, Scripps Xi-Med Building
Faculty: H. Irene Su, M.D., MSCE, Analisa Yeo, Laboratory Suvervisor and Nursing Staff
Field Trip to San Diego Zoo Safari Park August 2, 2019
Dr. Barbara Durrant and Staff
IV. Session #4, August 3, 2019 Ethics in Reproduction and Oncofertility 
Faculty: Hiral Dave, M.D.
Field Trip to Pfizer August 6, 2019
V. Session #5, August 3, 2019 Cancer Biology
Site: Moores Cancer Center
Faculty: Ramez N. Eskander, M.D., David Schlaepfer, Ph.D., Diana de Rosa, MS, CGC, Rebecca Rakow-Penner M.D., Ph.D.
Gynecologic Oncology Fellows (2019): Lindsey Charo, M.D., Jessica Jou, M.D.
Afernoon Session:
Site: BSB, 1st floor, Pathology teaching lab, Room 1212
Faculty: R. Jeffrey Chang, M.D., Dr. Ericka Senegar-Mitchell
Closing Program, August 17, 2019